Hey all,
November the 1st and its the final round of the VICDRIFT series. With Lee pidwell well in front of me in the championship table. I had to qualify 1st place and finish first place with him coming last haha. So of we went and made the 11 hour trek to Victoria.
Tap… tap… bang.. bang.. Hurry up i wanna skiddddd lol
the car was still sporting some nice damage from the pile up i was involved in at Oran Park last event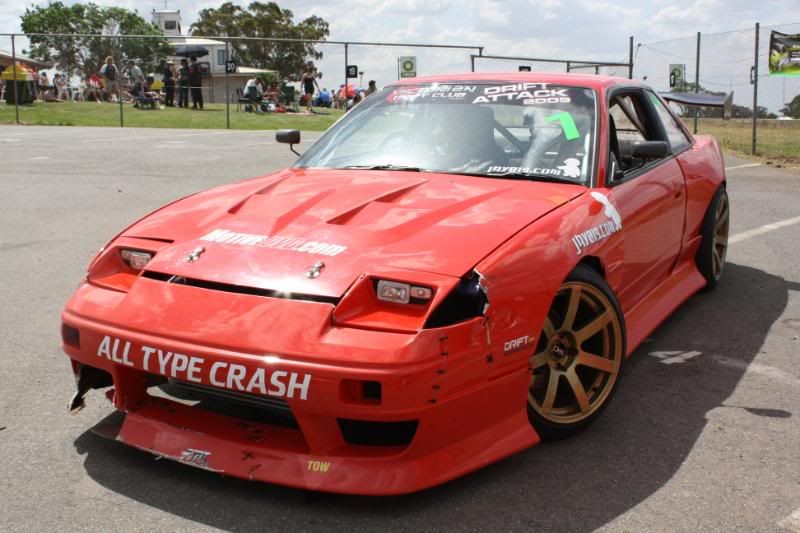 looks like its crabbing…..? well it was hahaha after the event i had the car wheel aligned and it was running a nice 14mm toe in on the driver side. Still looked nice but 😛
Team mates Hayden Buckham and Scotty Rowe made the long trek over for this round and couldnt wait to put on a good show 🙂
My good mates Benny, Lee and Bones came with me to help support and have a dang good time 😉
After the long drive we finally rolled into the leisure park the night before the comp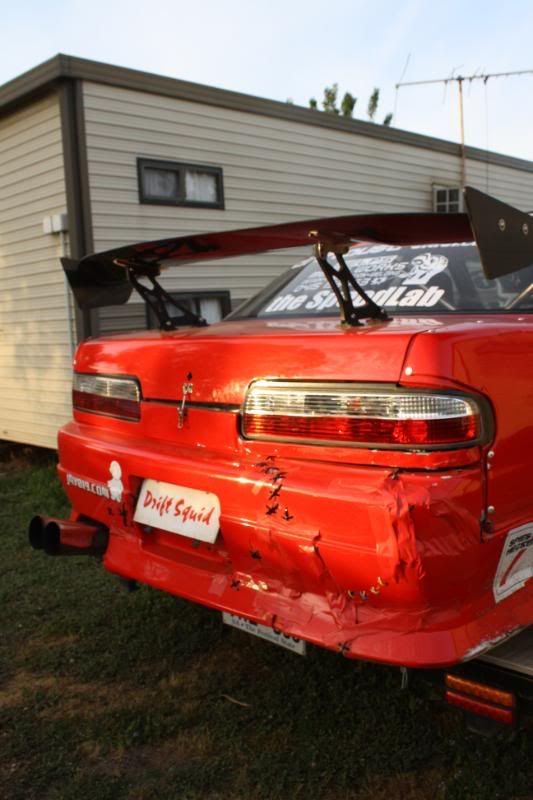 got the BBQ going and had a few drinks with the Insane Drifters 🙂 good eggs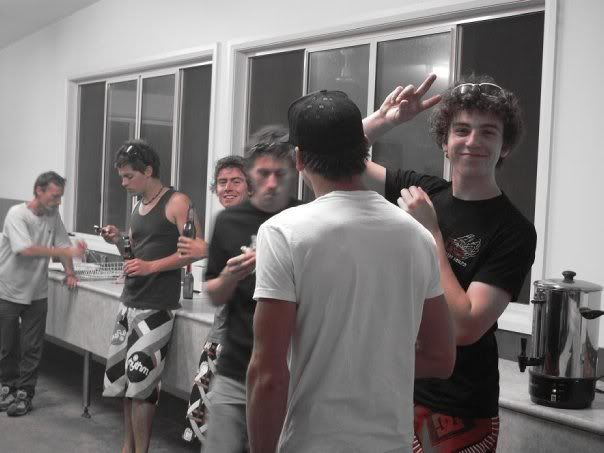 I was wide awake at 6am while everyone else was still sleeping *nigel would be at the gates lol* made sure i was ready to roll and 5 mins down the road we were at Winton Raceway. Unpacked the car and made sure it was all ready to go.
The car didnt feel as stable as it always had but that was because i didnt get a wheel alignment after my crash from sydney 🙁 silly me.
still managed to do a nice smoke show haha
Ended up qualifing 7th i think, Came up again Tim from the Insane Drifters and had a mad battle 🙂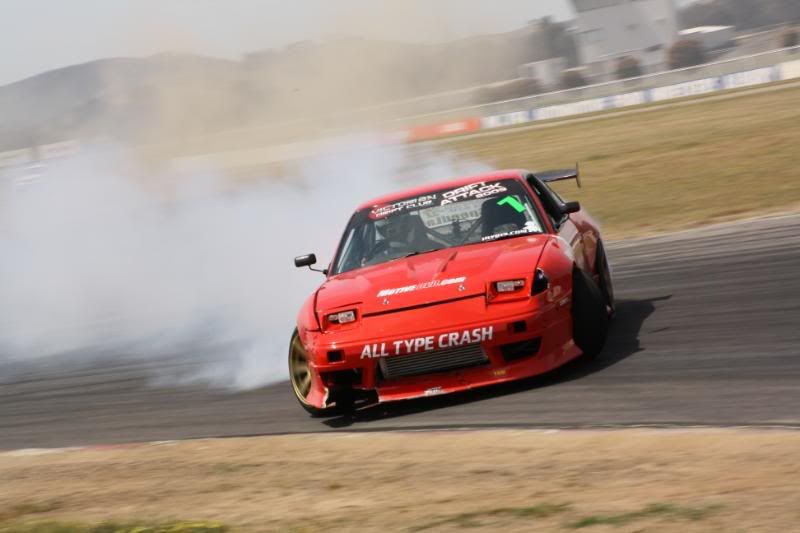 Wont he battle and then was up against another Insane Drifter "Agges". We first took off and i was suppose to lead, after a long drag race to the first corner i notice Agges was not going to let me in front so i let him go after we nearly hit haha. Come back to the start line and he miss understood the call of him suppose to be following. So we ran again and i lead haha. the first battle was too hard to split so a re-run was called. Done the lead run sweet as and then when i was following my car died coming into the scando 🙁 this put me out of the battle and i ended up 6th place for the day.
fixed the car and took it out for some thrashing after it all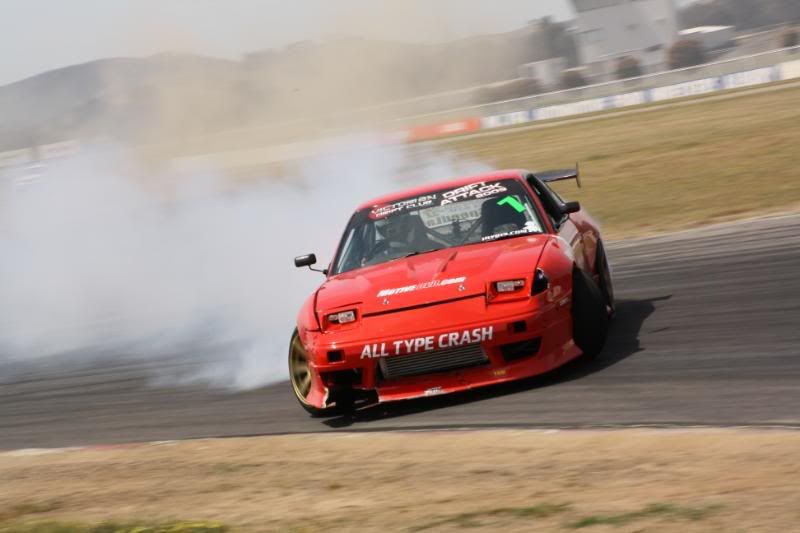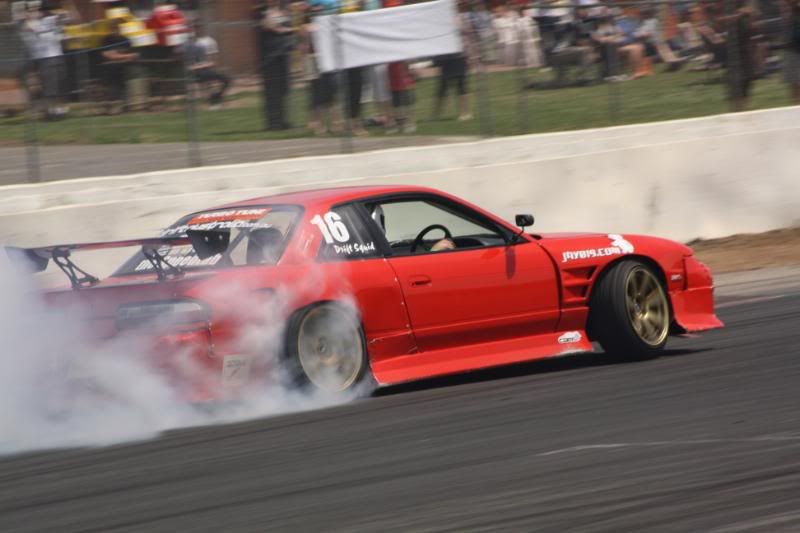 We were not finished just yet though. We didnt come all this way to go home without having one last fun thrash session. So we went out for team drift and took out the win in style with scotty rowe doing some mad dirt drops on the entry 😉
We took home a trophy and 1000 zie ties each thansk to the VICDRIFT club.
Overall was a fun weekend and i kept 2nd place in the championship so i come home with 2 trophies 🙂 thanks to everyone involved at VICDRIFT for making such a successful drift championship this year and we cant wait to head over again next year 🙂 bring it!!
Thanks to my supporters also
C Helps Metalworks
All Type Crash
Turbotune
The Speed Lab
Adelaide Radial
Neuton tyres
Cheers
-Squid
P.S. next weekend is the final round of the G1 Extreme Drift Comp @ Mallala Raceway
hey all, Its December and ive finally gto some footage from the event so take a look.. i made it really quick with the time i had on a computer that could do it just…. haha