Hey all,
Most of you know how the weekend ended for me but just incase your from the other side of the world and have no idea, im going to go through the whole lot for you : )
Saturday started with an early start. Everyone was at the track before we knew it and had the cars checked over and ready to roll. This event was split into 2 groups, street class and a Pro class. I was in the Pro class for this event and really couldnt wait to finally get a good run with the new setup.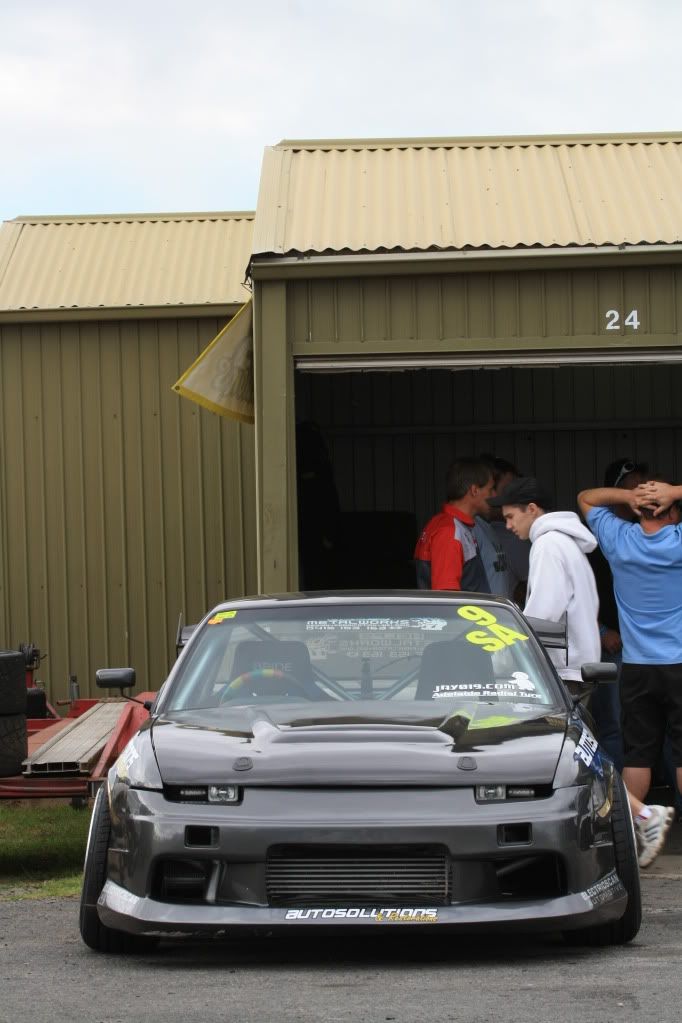 The street class went out first for practice and then the Pro guys went out after. I took it easy for the first lap just to get the feel of the different setup i had put in the car. I had to change it all back to how it use to be after the NOVA hot lap i did. It felt good so i started to push the car.
I was going through a decent lap following my mate Furby and going through turn 1 *BANG* 3rd gear stripped itself clean. Exactly what happened at G1 round 1. I was shocked to say the least, i realise that the standard RB25 gearboxes can not handle much more then 350rwkw. But i wasnt going to let the gearbox get me down so when i got back into the pits and told the team. We quickly loaded the car up and off we went to AutoSolutions and Restorations Workshop which is about 40min drive away. Everyone wasnt sure what happened as i didnt tell anyone where i was going so rumors were flying haha…
The Team and myself got back to ASR workshop and got stuck into the car straight away. We had to pull a gearbox from my mates car "Special thanks to Mr Bing for the borrowed Box" and then pulled mine out of my car. Once we had both boxes on the ground we had to swap and change bits to make it fit my car. We had 3 hours to get the car going again and back at the track. It took us just under 40 mins to have the car going again and back on the trailer. Massive thanks to Andy from Autosolutions and Retorations, Benny and L whip for the help, could not of happened without you guys.
We got back to the track with plenty of time and to the shock of alot of people also. We unloaded the car and made sure everything was good to go for Qualifying.
Qualifying was up and i was worried about breaking another gearbox. I simply could not afford to break this gearbox as it was not mine so i had to take it easy to a point haha…
I went straight up and took my qualifying lap. Come back in the pits and let the car rest till the night action. I knew i got a decent run down but wouldnt say it was anything special. I managed to Qualify 2nd place behind Corporal Christian Pickering. The team were stoked and so was i, Couldnt believe i qualified so high after only doing 1 decent lap. Anyway this put us up for our first battle in the top 32 as a BYE run. Due to only having 30 competitiors in the Pro class. So i am automatically into the top 16 for Sundays battles.
It was getting close to the end of the day and they run a "sponsor rides" event at the end of the day. I was waiting on some lucky people who won a passenger ride in my car but never showed up. So i ask my mechanic/sponsor Andy if he wanted to come for a couple laps. He said yes of course haha, so i put on my junk rubber and went for a few laps with Andy. After the 4th lap we noticed a slight miss at idle so we went back into the pits.
When we got back we opened the bonnet and found the breather had some oil around it. Was not looking good. Drained the catch can and sure enough alot came out, we tested the motor and sure enough we had cracked a ring land in cylinder 2. We had no idea why this had happened as the car seemed to be fine. We wont know until we had stripped the motor down to check it all out. But we had to call it quits for the weekend. We were going to rebuild the car that night but i simply couldnt afford to do it. It was so devastating after all the hard work we had put into the car prior to the event and on the day. But this is motorsport and we are only going to learn more and come back bigger better and stronger 😉
I headed out on the sunday to help some mates and make sure the car was on display for the sponsors. I went up in the tower with Racin Jason which was fairly fun considering haha..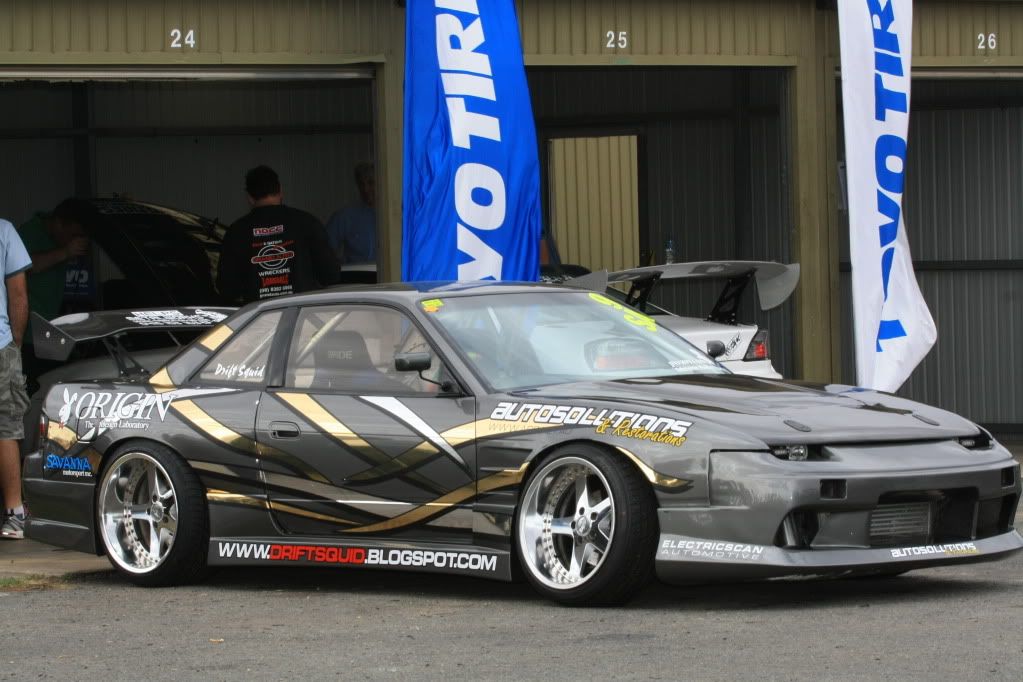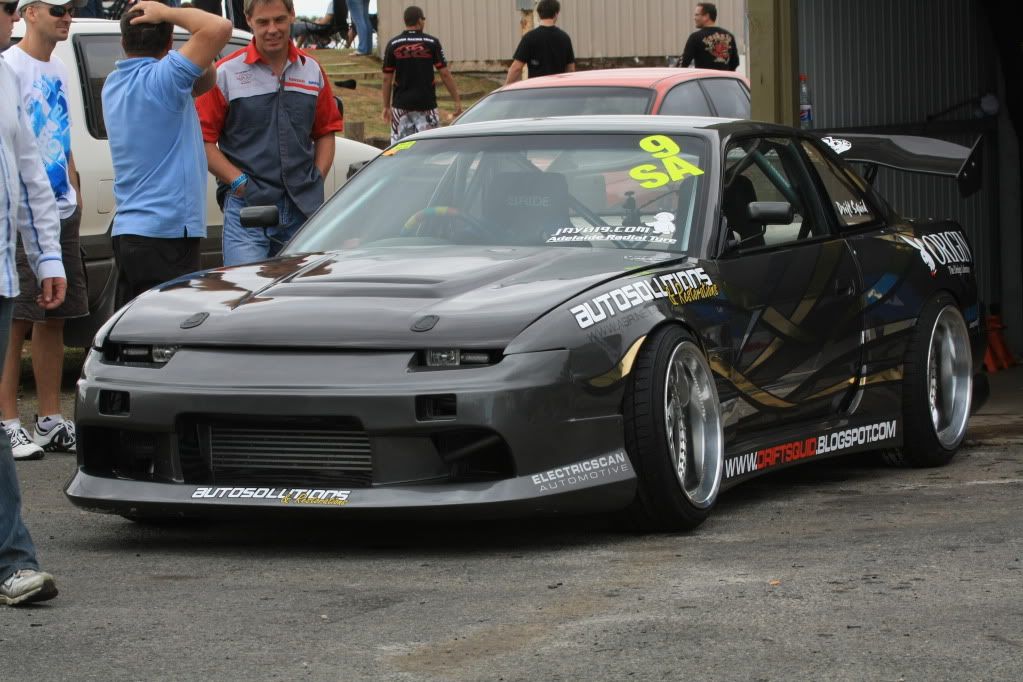 I also got a 21st birthday Present from some of my best Friends, the wrap was fair awesome haha… and the hair… dont ask 😛

I have made a small video form the weekend just so you get an idea of what the Team and myself went through. Please watch and hope you enjoy
The car is now underway of a motor and gearbox rebuild. We are aiming to get the car ready to head to Eastern Creek for the World Time Attack event where Drifters from Japan are heading over for a special Drift Comp. Its invite only and its going to be one massive event. Lets hope we can get it all ready in time and be able to fund it. If anyone is interested in some great exposure please email me at Jake_Jones_00@hotmail.com
Regards
Jake