Hey All,
G1 Extreme Drift comp Round 2, July 11th 2010 (Mallala Raceway)
It was a day comp so this meant an early start. I had been waiting for this round to come for some time. We had spent so much time on the car and making sure everything was working right that I just wanted to find out how it would drive again. It was going to be my first time driving with the new PPG gearbox and i couldn't wait!
A special thanks goes to Casey Dhnaram for coming down from Queensland to shoot the event. Casey also did a shoot on my car on the Saturday in a local Barossa location. I can't wait to see the pics!!
Now onto the comp, we rolled into Mallala at roughly 6.30am in the morning, with next to no sleep the night before from excitement I was pumped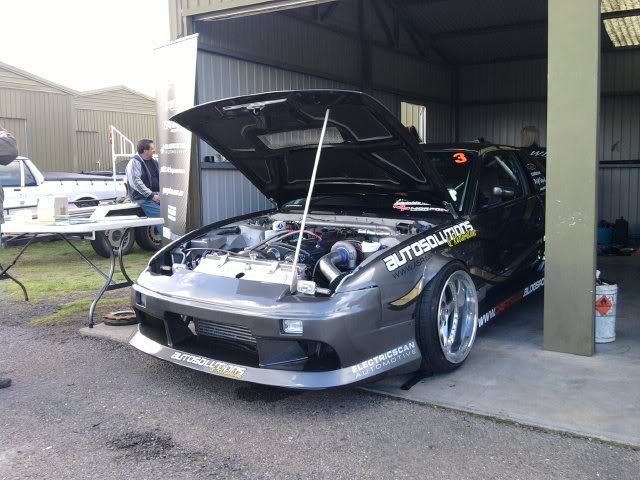 We unloaded the car and got the shed setup ready for a great day ahead.
I decided to go all out on my tyres for this event. I have been building the car up to a stage were it was able to run some serious rear tyres. I bought some Federal RSR 265/35/18's for the event and couldn't wait to see how they perform. The car is more then capable of turning these tyres but I still have the weak drive shafts in the car. I knew they wouldn't handle these tyres for long so we put some fresh drive shafts in the car before the event.
The first practice session was up and I was eager to test the car out. I had dialed in a new alignment setup for the car also. I'm well known to play with the alignment even though it was fine before hand. I can't handle knowing there could be a slight advantage if I try something different hahaa…
In the first practice session I noticed my new alignment setup was under steering all over the joint. I played with tyre pressures and ended up getting it to a point where it was alright. However I did another lap and BOOM, a driveshaft exploded as I was going through the esses. It snapped the shaft at both ends and sent the shaft flying into the infield of the track. I was lucky it didn't destroy the brake lines or even the suspension arms.
I brought the car back into the pits and the team from Autosolutions and restorations got stuck into the car straight away. With only 15 mins till I had to qualify, the car needed to be going quick. I knew the team would have the car ready in time.
The car was fixed in no time with a new driveshaft installed. Knowing that the drive shafts broke so easy I went back to my cheap rubber. I only had a pair left over from last event to use but lucky I brought them along haha… I went straight out to line up for qualifying and just made it in time. I didn't have time to do any practice runs so I went straight into it.
I didn't warm the tyres up anywhere near enough and the car just didn't want to turn when I wanted it too.
My first run I just pushed as hard as I could and tried to get a decent enough run to make the top 16.
I felt that my first run was enough to make the top 16. It wasn't good but it was enough. So as normal on my second run I went all out
The car was still under steering badly but I had to push on.
As I came up to turn 1 the car under steered and on the transfer back from the Scando it just snapped on me and almost spun me around. Lucky I had some NP wonder knuckles and was able to catch the slide and carry on
I then was able to recover the car enough to finish the lap good enough to make sure I made the top 16 cut. It was a very rough run but I managed well considering haha…
I ended up with 8th qualifying position. I wasn't happy with my efforts but I was glad I made the top 16. Plenty of improvement needed haha…
It was now time for BATTLE!!! Top 16 battles, I was up against Jack Widdas (R31). This was going to be my first ever Battle for the whole year. Every event up until this one the car never made it too the battles. I was so excited I couldn't wait! Jack and I spoke before the battle and wished each other luck.
I was following Jack first and had to slow my speed down a lot compared to normal.
It was hard to follow a slower car with my car still under steering badly. I was able to stick to Jack enough to get the advantage. It was now my turn to lead!
My car was gripping up very well on the cheap rubber I had to change back too so I didn't pop anymore drive shafts.
I finished the run a few car lengths ahead and with a nice bushfire to finish the run I was through to the top 8.
I was now up against my mate Hayden Buckham. Hayden and I have been drifting together for awhile so we both knew each others style. Although Hayden had done the same as me and gone all out on the rear Rubber for this event. Knowing this I wanted to get back into the pits to put the Federal RSR's back on. I wanted to make sure this run was going to be awesome. They gave me enough time to get back into the pits and then I looked at the time they gave me on my window and I needed to get back out straight away. The cheaper rubber had to stay on and I had to do the best I could.
I was following Hayden first and wow what a run. Just after this Picture I left a big tyre mark on his rear bar "sorry Hayden hehe". I was keeping up more then fine on the cheaper rubber. We hit the straight and Hayden threw the car in for the scando, I followed but with the car not wanting too turn In, I turned further and then Bam. The car flicked back and almost collected all the tyre barriers. I sent all 4 wheels off the track which caused me 0 for the run. Hayden now had a clear advantage and all he had to do was a basic chase lap.
I made the most of it for the crowd and used a higher gear too make some more smoke haha. Hayden is in this pic but you have to look hard haha…
And to finish of the run I made sure the last corner was full of smoke. Hayden is also in this pic. I pulled a fair distance considering I was on cheap rubber against Hayden's semi slick style tyres. I enjoyed the battle but lost due to my chase lap running the car offline.
I finished the day in 5th position and was happy considering the car was no where near how it should have been. We now have a lot of work ahead of us to have the car going for this weekends drift practice at Mallala. A new GTR rear end will be installed so I wont ever have any drive shaft issues again "touch wood" haha…
Massive thanks to all my sponsors, family and friends for helping out on the day. I couldn't have done it without you all!
Autosolutions & Restorations
ORIGIN Australia / Savanna Motorsport
HELPS Metalwork's
MCA Suspension
ElectricScan Automotive
PPG Gearboxes
KC
Lewis Engines
Hi Octane Racing
The video from the event is coming soon
Stay Tuned
-Squid