Hey yall,
Another adventure was on its way in NZ and my car was in need of some work before the event, so I had the following work carried out.
Steel Gears put in the N1 Pump. *lucky as the N1 Gear has cracks already*
ROSS Balancer
E85 Fuel will now be what the car is run on so
Fuel pump
Injectors
Rail
Fuel lines etc all modified to suit
And just to make the most of it all the Turbo was changed to a GT35R. The main reason for changing the Turbo was to not only make more power but to keep the intake temps down. The Td06 i have been running on the car so the last 2 years has been maxed out and causing the intake air temps to sky rocket. I can safely say my temp problems are now a thing of the past.
After all this the car was then ready to be run up on the dyno and sure enough it shocked everyone.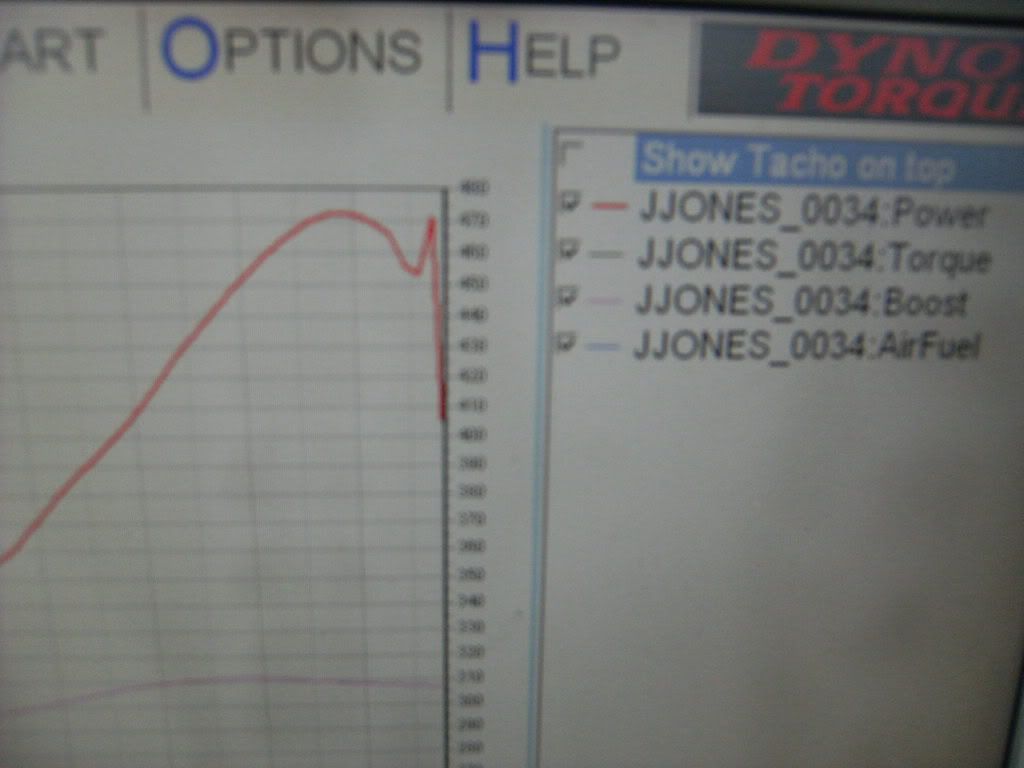 just a tiny bit more then before @ 470RWKW. I had Spec Performance De tune it back down to 450rwkw which was way more then i was expecting and way more then i should need haha.
After this was all taken care of while i was working i was then on my way over to road trip up with the Spec Performance crew and my mates to the North Island for ROUND 2.
I arrived in Christchurch on the Wednesday and we went straight to Spec Performance where the car has been getting its work done. I have never been away from the car for such a long period of time and it was damn good to finally see it again haha.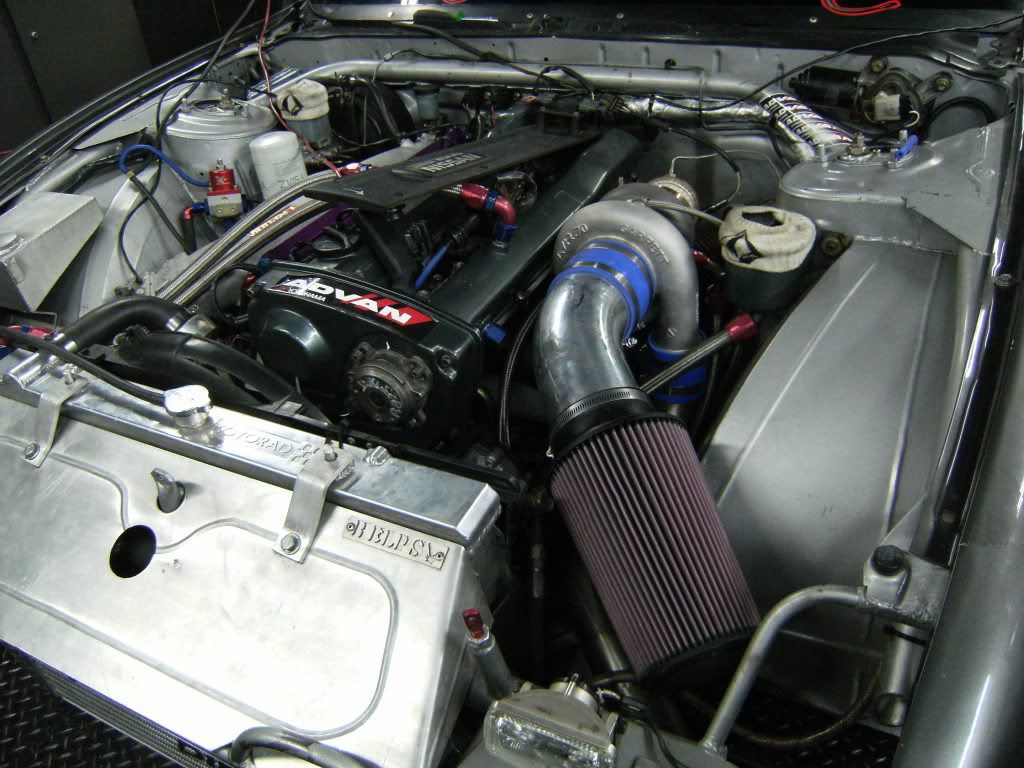 I Was worried when i first heard the power output of the car and really wanted to De-tune the car. But Spec said it will be fine as the tune was safe as houses 🙂
While i was around spec i took a look at some of the customer cars and its fair to say they work on some crazy rides.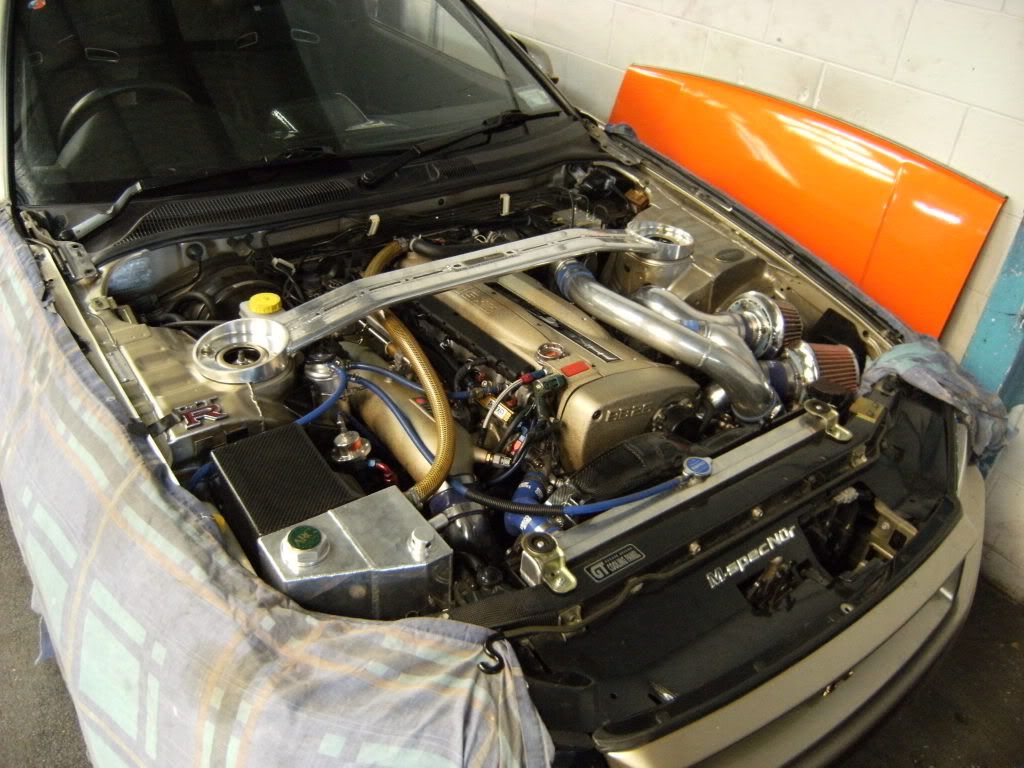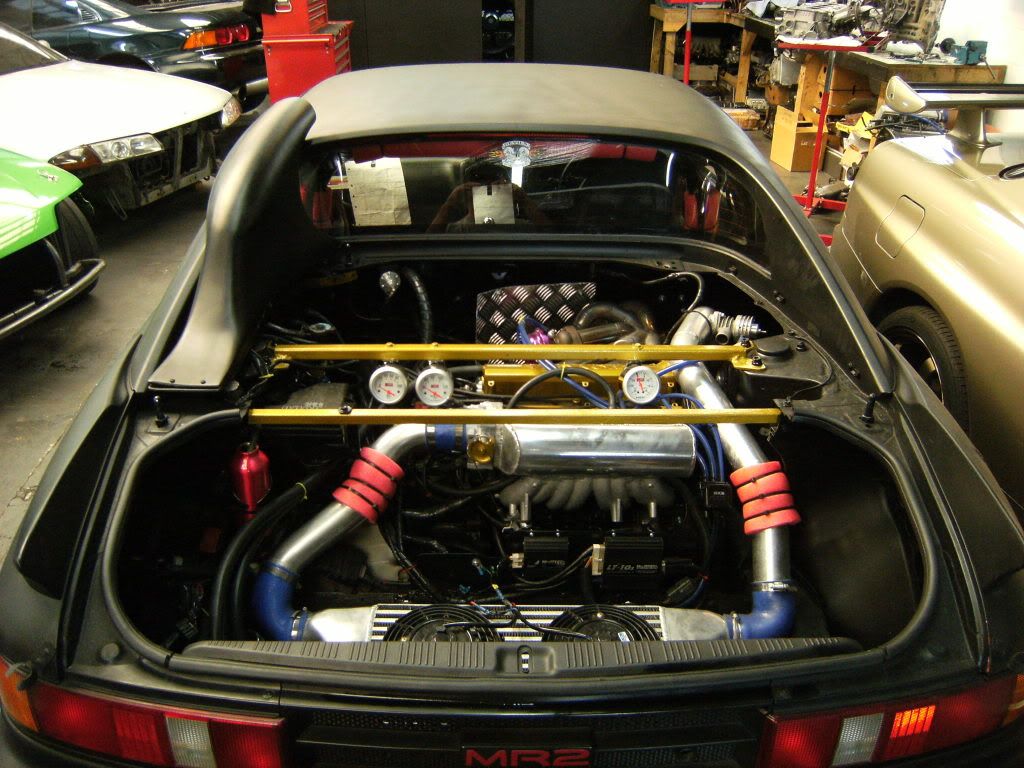 Mate Paul Tomlin was heading over for Round 2 also and his new motor blew up on the Wednesday before we left on the Thursday. So Paul had a loan motor from SPEC which he put in over night and then just needed a tune up. Spec made a healthy 300rwkw out of it so Paul could still make the event.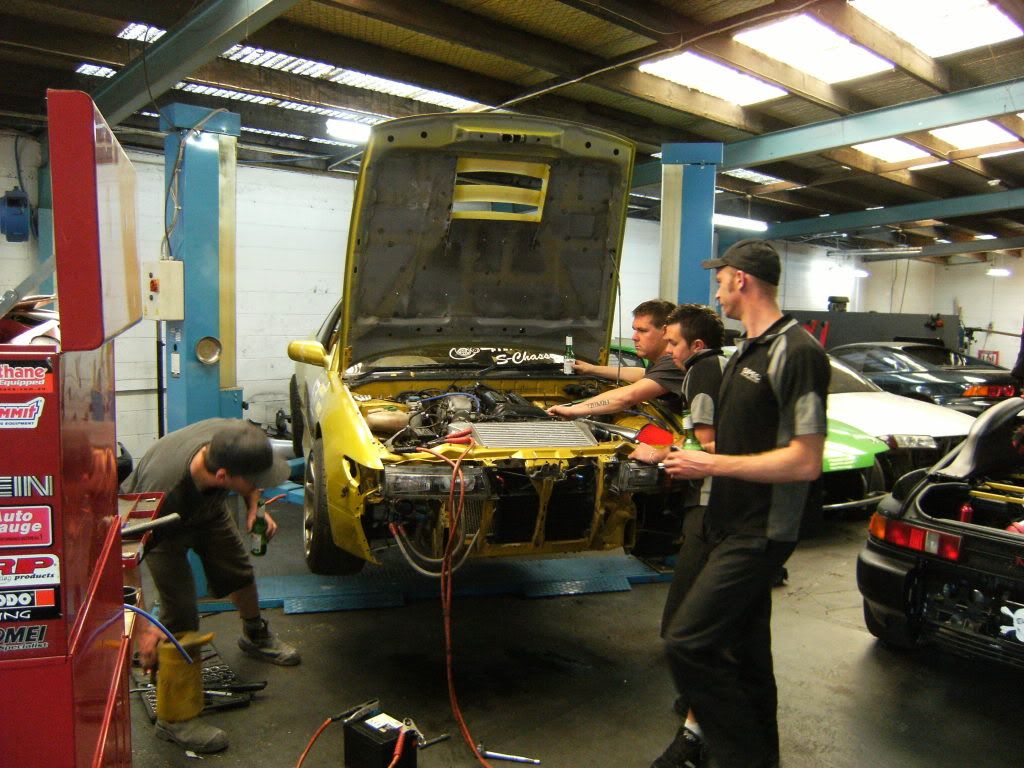 Good mate Phil Sutherland was also heading over with his crazy 2JZ powered A31 Ceffy. I cruised with him for the 5 hour treck to the Ferry while the Spec crew towed my car up to meet us. On the way i seen some of the best scenery ive ever seen. It may not look like much to you but i was loving it!!!
Water you can actually see through :O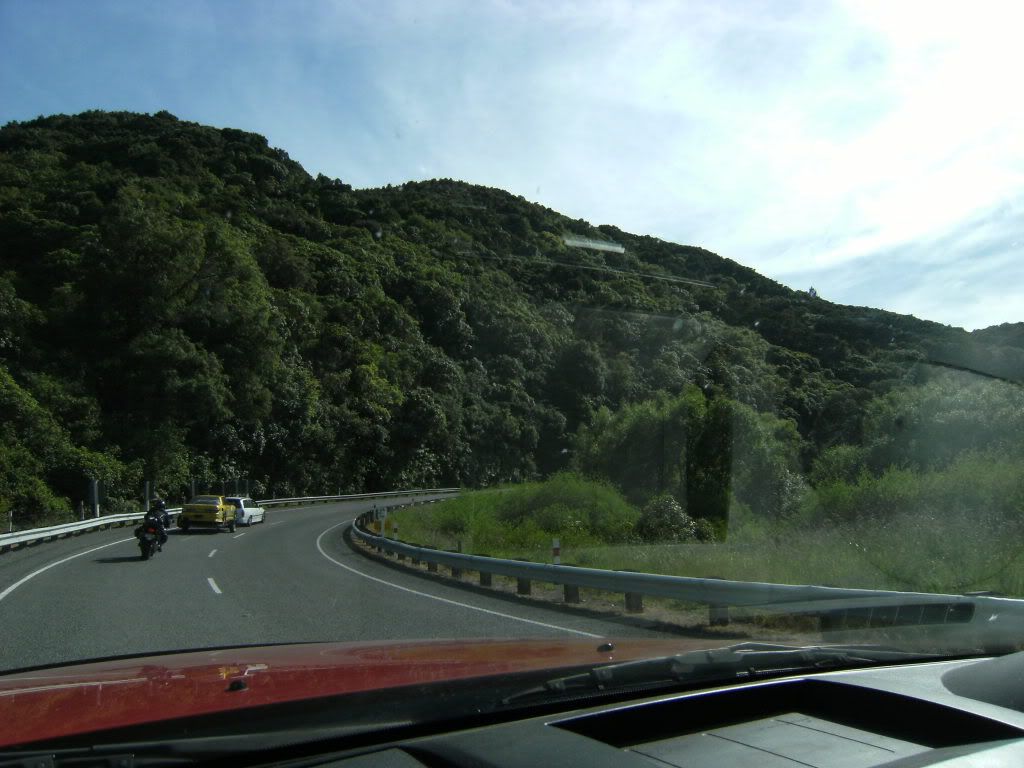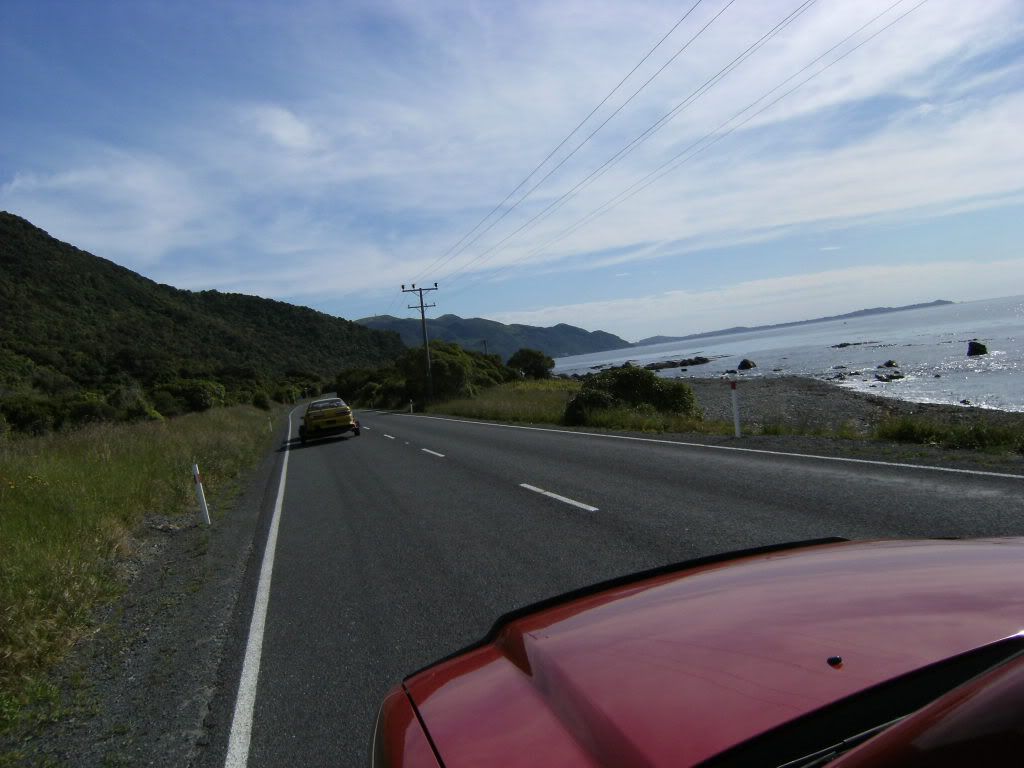 As we were getting closer and closer to the ferry Tommo's trailer was getting more and more camber on the left hand side. We needed a welder and soon lol
More crazy fresh water… It may be stupid to most but i find it damn awesome.
We finally got to a town were we pulled up and used a workshops welder. Tommo had a mate weld it up and we were off again..
Not without the help of Bull though mmmmmm…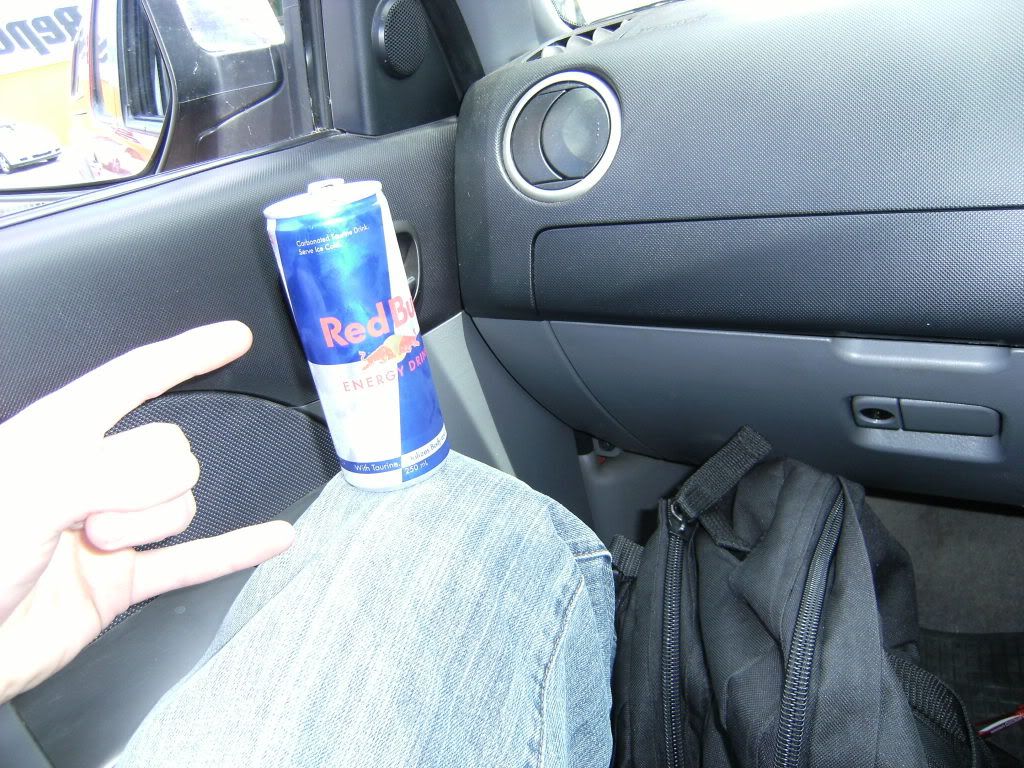 We made the ferry just in time.
How ever my car was still a good 20 mins away and the cut off time was getting very close. Thanks to a great pair of understanding NZ ladies we had the boat cut off time delayed slightly so my car made the boat in time 🙂 Thanks Ladies!!
We made it over to the North island on the 3 hour ferry ride. Was awesome to see so much of NZ. We then got over and had another long drive to get to Palmerston North were Manfield is.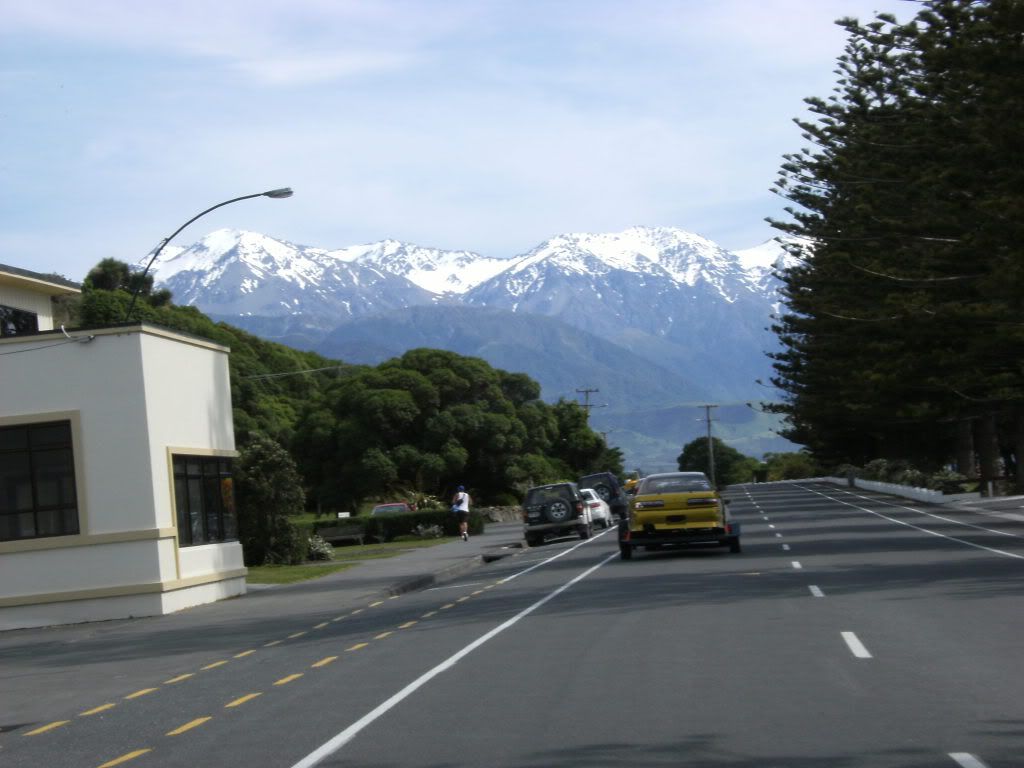 Check out the Snow caped mountains, just awesome!!!
Macca's in NZ that bad they leave the Plastic on the seats :S haha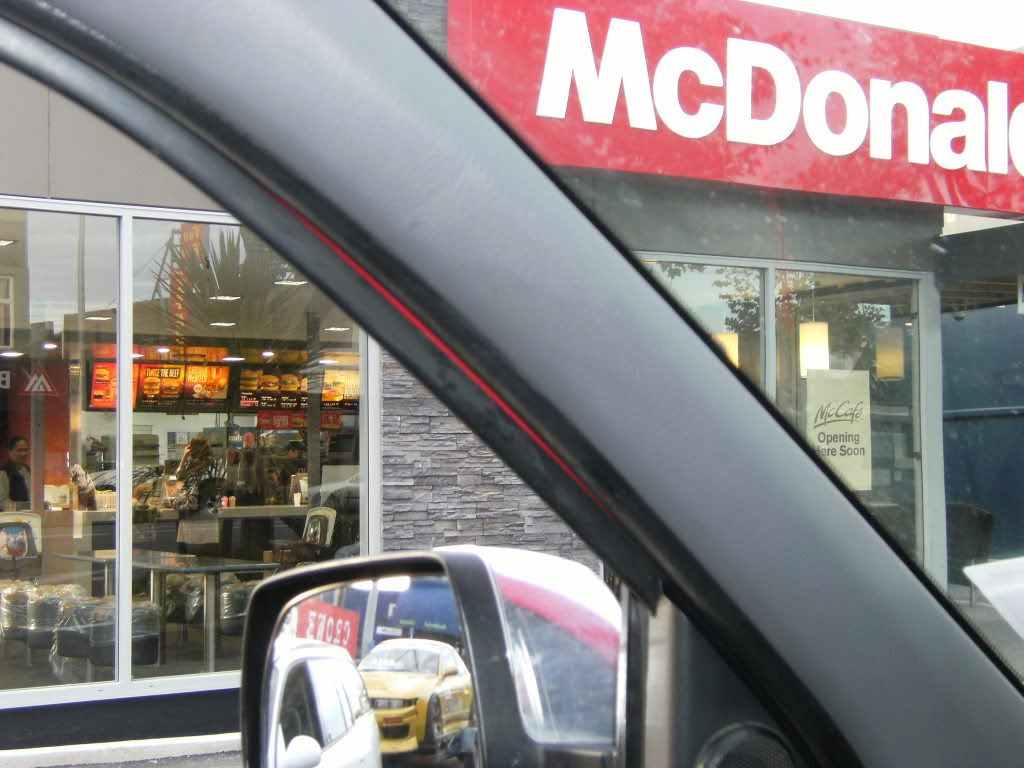 We arrived at our little hotel and crammed the cars in..
It was a long journey and one ill never forget. THanks Lip Lip for putting up with me the whole way (Even though i had to take over after the ferry) hahaha.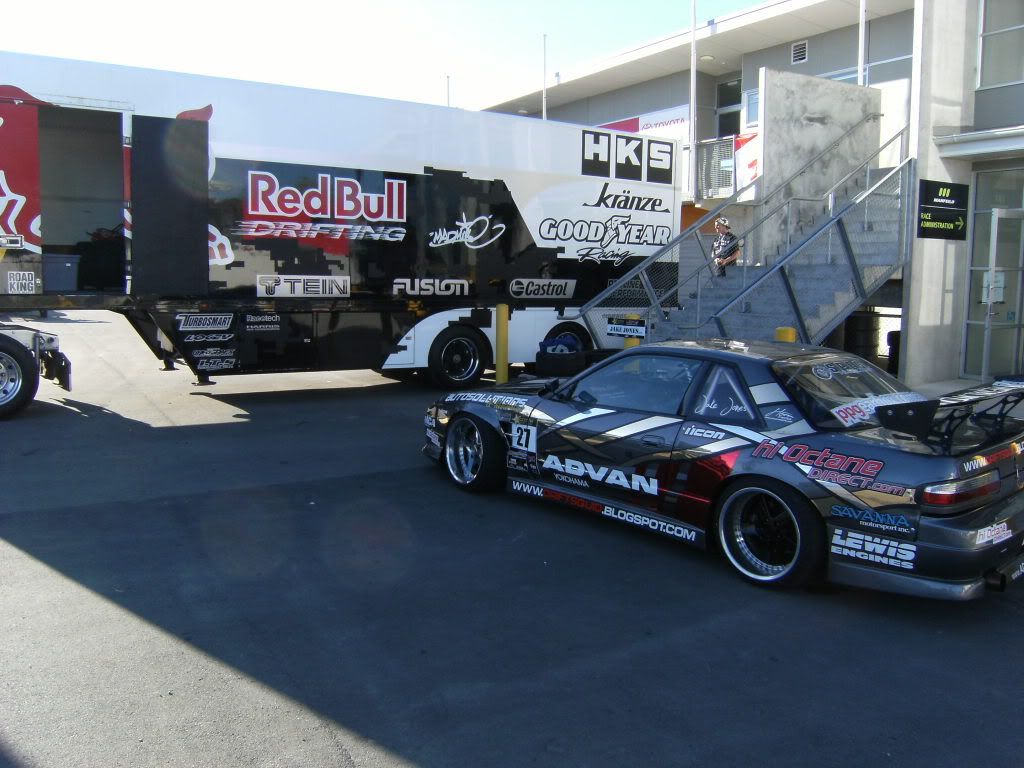 Got to the track and sure enough Mike was already there. Mike has also been kind enough to help carry all my gear around in NZ. So thanks heaps to Toni and Mike for their help 🙂
God damn the Rig is just awesome isnt it!! Love the whole setup Mike has its just wicked…
It was now into the Drifting on the Friday. After the drivers briefing we were lining up straight away ready to rumble. I checked over my car to make sure everything was still in tack and lined up with Mike ready for a practice run.
To say the car was crazy quick in an understatement. ITS INSANE!!!!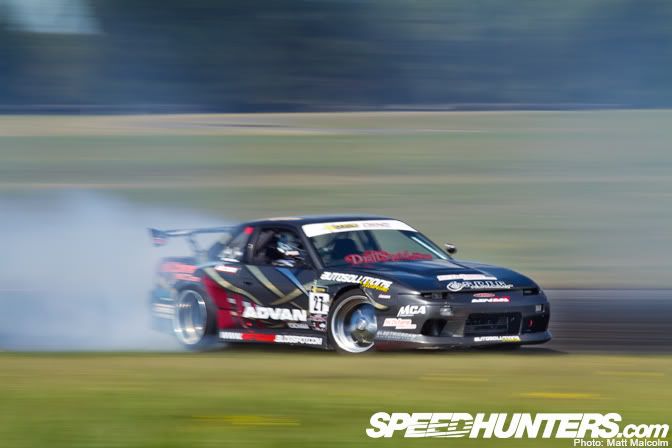 Thanks to Matt Malcolm these pics are from the Friday practice session.
I was loving the track but unfortunately i was having Missing issues and then the Steering rack didn't want to turn right anymore.
I was now on the look out for a Power steering rack and with the day ended and no shops open around town i was left with one option. To take Lip Lip's rack out of his Ceffy and put it in mine. Phil blew his gearbox so he wasn't going to be driving on the Saturday anyway. Thanks Phil and the boys for helping out Friday night at the Hotel changing them over.
It was now Saturday, the main day and i was pumped to put down a solid days drifting and having a blast with my new setup. Steering sorted and new coil packs in ready to solve the missing issue.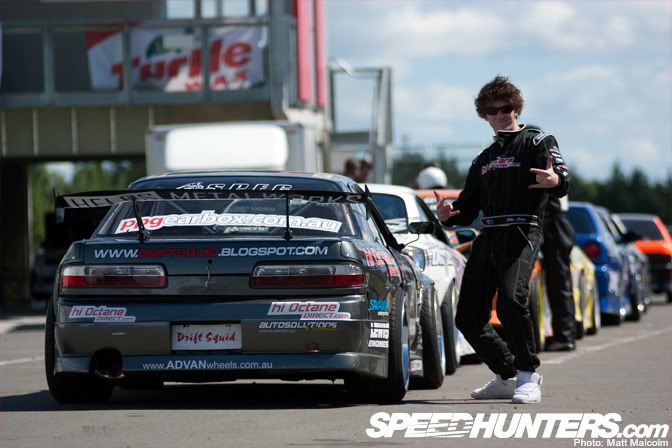 Well…. the first session was the end of the weekend for me. After the first 2 laps around the track i seen the temperature raise up to 90'c which is didn't get to all Friday so i knew something was up. I drove another half lap to just try cool the car down and it then went to 100'c. I quickly came in the pits and shut the car down.
Sure enough something that never ever happens to anyone happens to me lol. The welsh plug from the back of the head came clean out and lost its water. To fix this we had to take the head off and we didn't have time before qualifying to get that done. So my weekend of drifting was finished early once again. It didn't mean my weekend was over though. I took this chance to take in how it all works from a spectators point of view.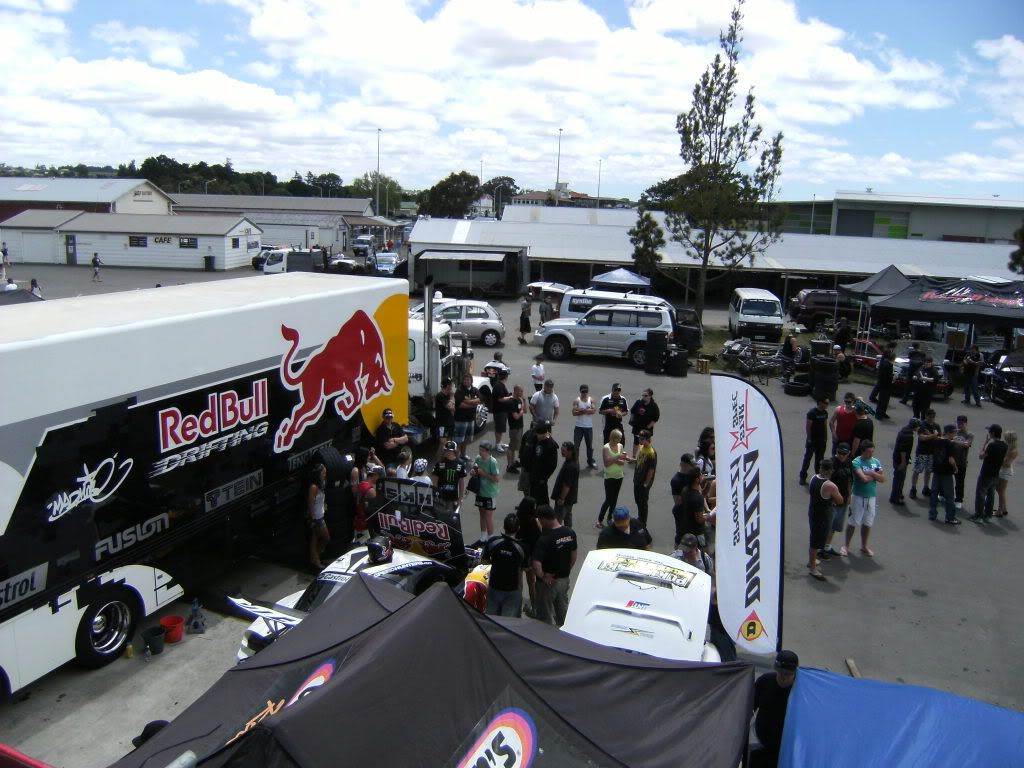 The setup at Manfield was cool. Corporate boxes all up above the pits which i was invited to for a few beers during the battles 🙂 yeah!!!!
The crowds getting around during the early morning on Saturday.
I went out to check out this Laurel i spotted from the corporate box and loved it! Kiwi style 😉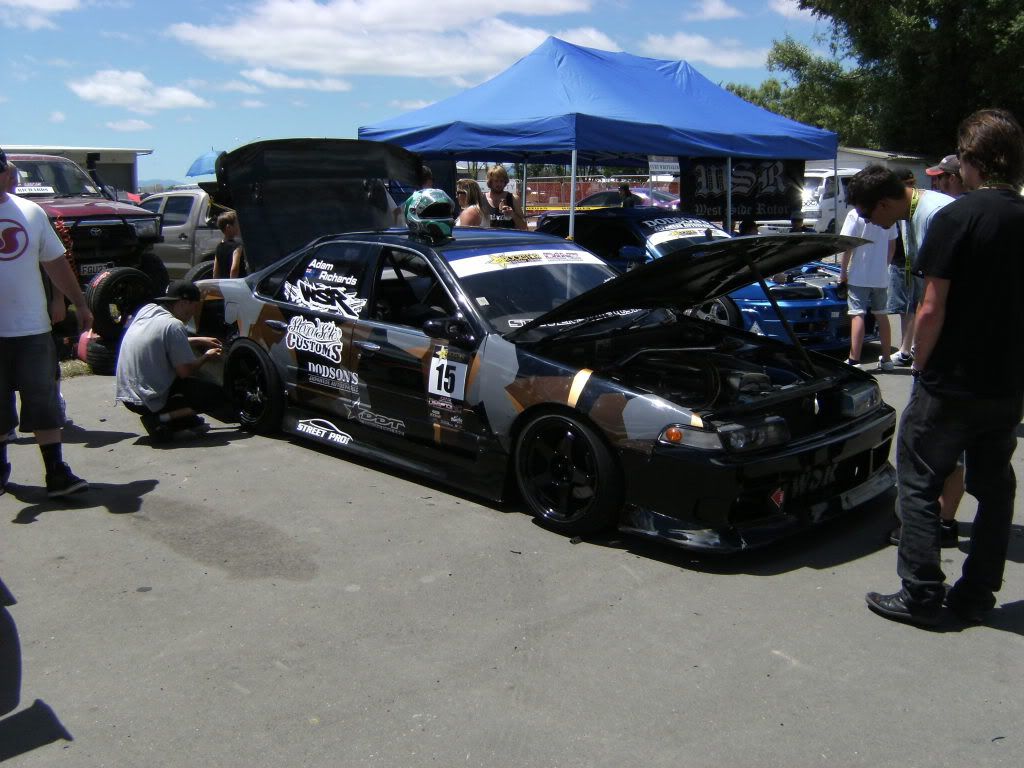 Adam Richards RB26 Ceffy is damn cool. Adam was kind enough to lend me his spare coil packs also. Thanks Adam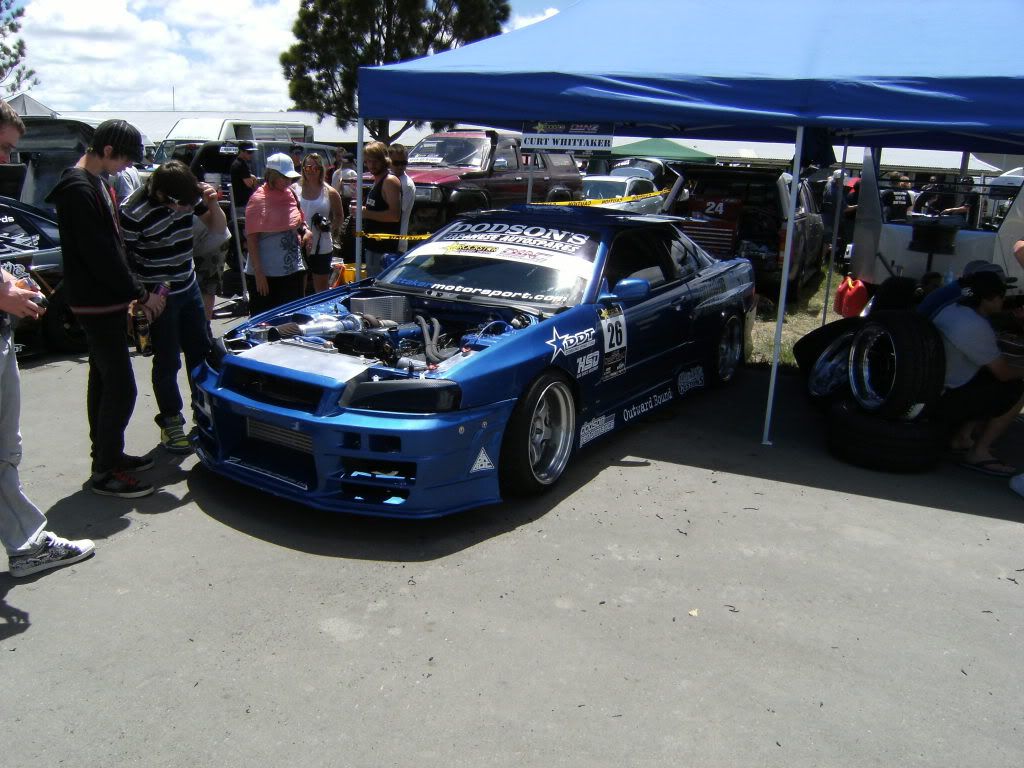 Curt Whittaker 2JZ R34 is just awesome. Ive got a few ideas from this car 😛
This was the corporate box i was in while the battles were on. Thanks to Murray Coote for getting me up there 🙂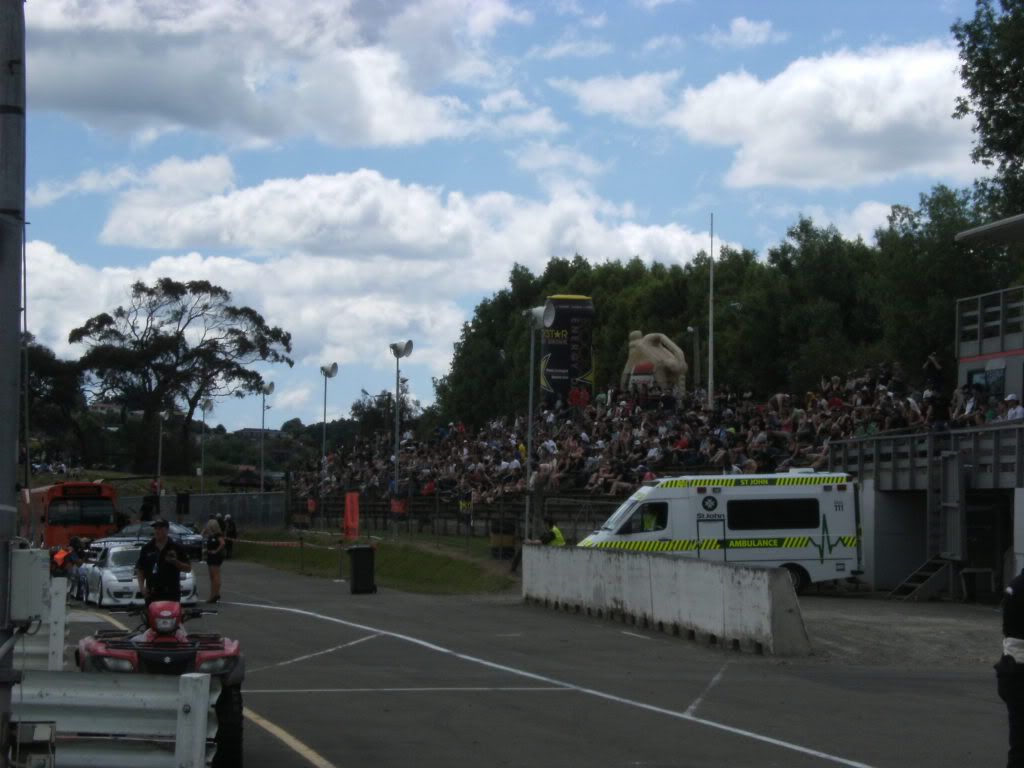 Big Crowd! Something Aussie hasn't seen in a fair while 🙁
I also took the opportunity to make my car flash and put it on display. Getting maximum exposure next to Optimus Prime!!! 😀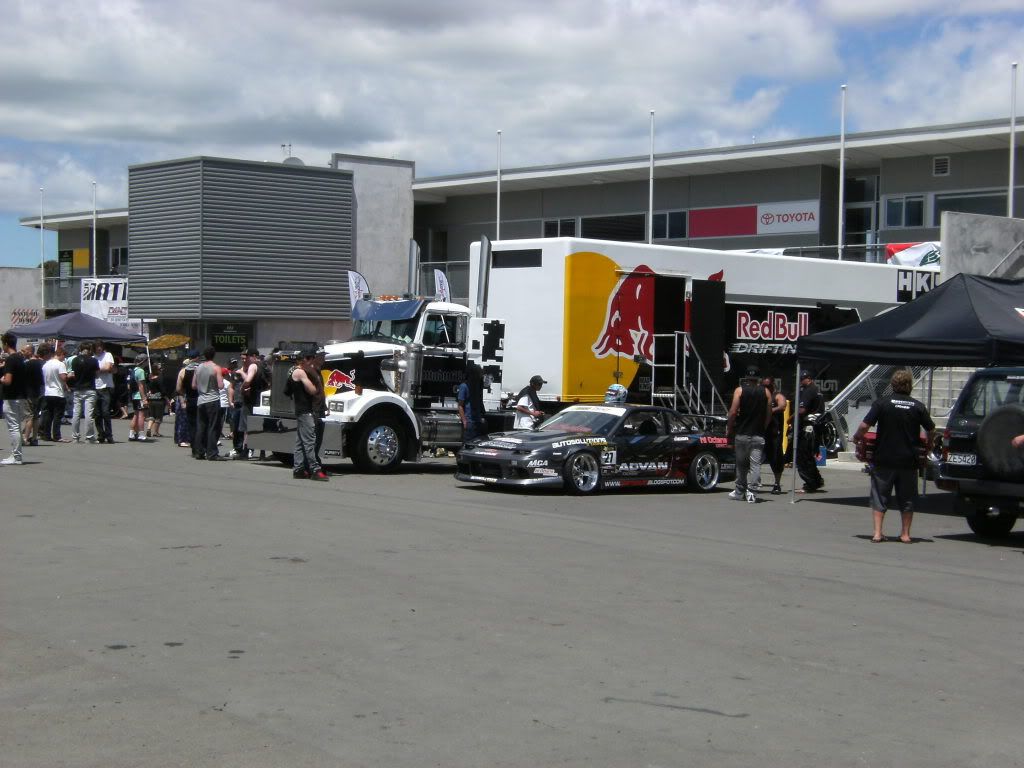 I have a heap of vids I'm going to share from my crazy stupid quick car to the victory burnouts that i was like one meter away from. Awesome!!!!
More to come all but hope you enjoy this update
Regards
-Squid