Hey all,
Australia Drift Grand Prix (the newest national series held in Australia) Round 2 QLD raceway. OCT 15th and 16th
With a 23 hour drive straight through one way just to get the track it was going to be one big adventure. While I couldn't get time off work to tow my Drift car up to QLD my Dad offered to do it for me while the Team and I flew in on the Friday night. Thanks dad haha… This would be the first time I had ventured up to Queensland for a Drift comp. The venue was Queensland raceway and I was excited to try it out.
The main thing I had to do was make sure the Trailer was up to spec with the long haul. You should really treat your trailer like your drift car as its the heart of the operation 😉
Morpowa Re-checked the tune on the Drift car and it came up fine, actually making more then before but we know that's because the ADVAN NEOVAS were gripping into the rollers like crazy.
Saturday, OCT 15th
We arrived at the track around 6am with fresh morning rain the day was looking to be a wet one. Didn't stop us from setting up our whole display though 😛
But by the time drivers briefing came around the track was near on dry. The new layout they wanted us to drift was rather unusual and looked as though it would test most of us. With the car washed and now rolling on some Yokohama S DRIVE 255/35/18's I was more then confident.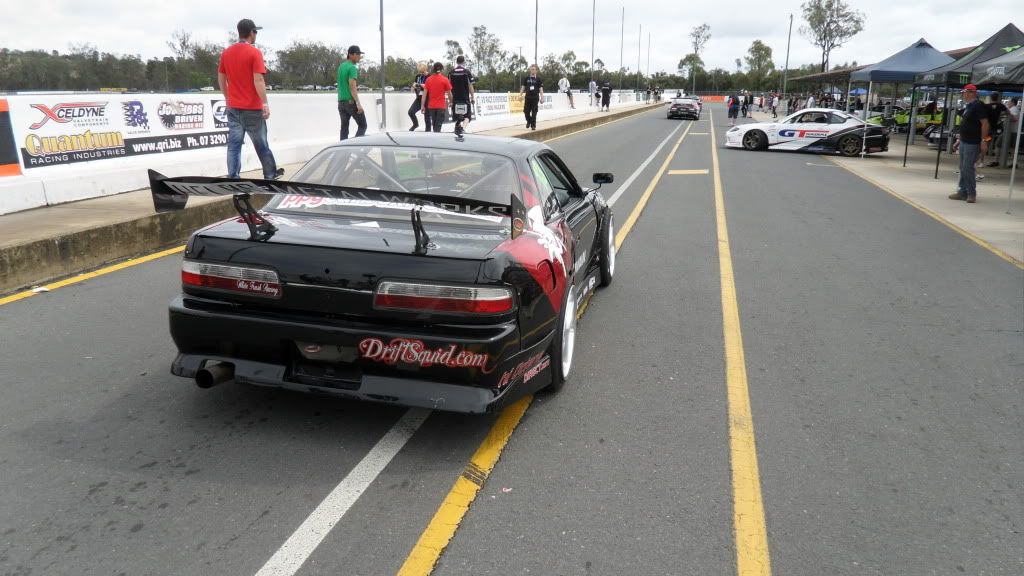 After a few practice sessions and changes to the track I was starting to find my feet. But as soon as you do, you always go for that little more and it almost bit me hard this time round haha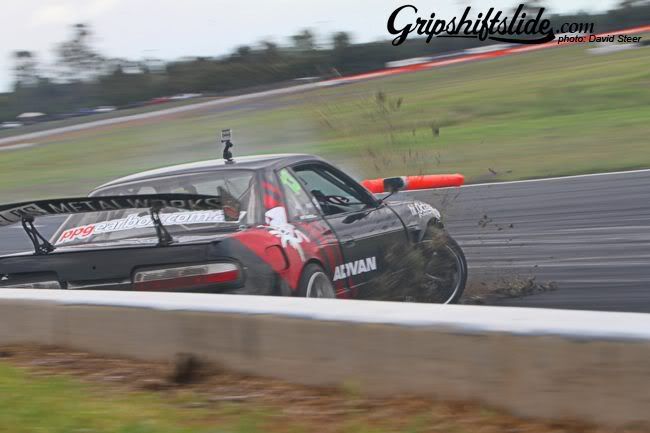 With a 160km/h entry, then having to slow down extremely fast to get around the 90 degrees left hander was the hard bit to get perfect. Before I knew it, it was time for Qualifying and it was all or nothing. I was starting to worry a little as I hadn't been worried about qualifying like this before in a long time. Coming all this way and not even qualifying would not go down well with the team haha so I had to make sure we put in a damn good effort
Another set of Yokohama S Drives 255/35/18's went on for Qualifying and back out to make sure I put in a good run
The first run was a little too committed and I spun on the second transition. I now had 1 qualifying lap left and really couldn't do the old 'safe lap'. It was all out or nothing
Well it was damn smokey haha, and good enough to grab 9th place in the Qualifying table. It was now time for the Queensland weather to show its best and a huge storm came through and just about wiped every ones display out. Lucky for me the Team were onto it and pulled everything down as soon as they could.
This put the rest of the day on hold and we all got to head off early for a good nights sleep, it was well needed as the next morning was going to start around 4am for the Team :S
Sundays progress coming next so stay tuned
Peace
-Squid